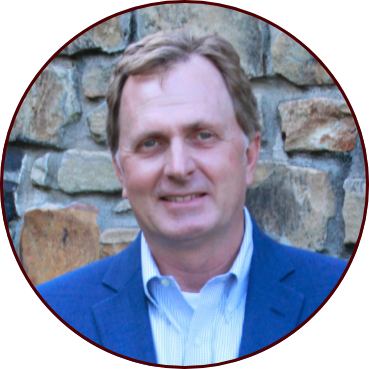 Chris Johnson
Agent
Chris Johnson has enjoyed a successful career in real estate, property management and farming/ranching – essentially the "land business". He has lived in Fannin County most of his life, growing up working on the family farm and enjoying small town life in Bonham, TX. He received his BBA-Finance from Texas A&M University in 1987 and upon graduation worked as an analyst at Conoco Oil Company before deciding to return to Fannin County to partner in his father's real estate brokerage company and farm & ranch operation.
Chris is experienced in many aspects of the industry – working with buyers, sellers, landlords, tenants and lenders in rural, commercial and residential markets. From managing a large cattle ranch operation specializing in AI/ET for foreign investors in the early 1990's to overseeing the design, construction, leasing and daily management of two medical office buildings totaling 24,000 sf in the rapidly growing NE Texas market, Chris is ready to draw upon his years of experience in order to provide the highest level of service to his clients - while doing so with core values of honesty, integrity and loyalty.
Chris is a member of the National Association of Realtors (NAR), Texas Association of Realtors (TAR) and Greater Texoma Board of Realtors (GTAR). He and his wife Jeri Lea have five children and two grandchildren. Chris enjoys spending his spare time outdoors doing ranch work or hunting, with an occasional trip to a corner of the globe thrown in for good measure. Contact Chris directly 903.815.1661 or chris@fanninland.com – he is ready to go to work for you today!
10486 & 10302 N Hwy 78 Bonham, TX Fannin TX Fannin Bonham Texas recreational landundeveloped landbusiness opportunity

125000

Acres:

1.53 ±

County:

Fannin

City/St:

Bonham, TX

1.526

1678823430

1677522873

0

Status:

New Listing

Price:

$125,000

This two parcel property totals 1.526 acres on State Hwy 78 and less...

recreationalland undevelopedland businessopportunity

Recreational LandUndeveloped LandBusiness Opportunity

1055 Business Hwy 121 Randolph, TX Fannin TX Fannin Randolph Texas residential propertysingle familybusiness opportunity

216800

Acres:

0.32 ±

County:

Fannin

City/St:

Randolph, TX

0.32

1678116449

1676654681

0

Status:

Available

Price:

$216,800

This large 0.320-acre property is located on a Corner Lot with-in the Heart...

residentialproperty singlefamily businessopportunity

Residential PropertySingle FamilyBusiness Opportunity

180 Stephen F Austin Rd Lake Crockett Fannin TX Fannin Honey Grove Texas recreational landresidential propertysingle family

299000

Acres:

2.61 ±

County:

Fannin

City/St:

Honey Grove, TX

2.607

1677521932

1671037670

0

Status:

Available

Price:

$299,000

Talk about a PERFECT weekend getaway, this property at Lake Crocket is it! With...

recreationalland residentialproperty singlefamily

Recreational LandResidential PropertySingle Family

Acres:

19.8 ±

County:

Lamar

City/St:

Honey Grove, TX

19.8

1678223104

1667512121

0

Status:

Available

Price:

$750,000

Fantastic opportunity to buy 19.8 unrestricted acres along highway 82 just 15 miles...

202 W Denison St Bonham, TX Fannin TX Fannin Bonham Texas residential propertysingle familybusiness opportunity

159360

Acres:

0.3 ±

County:

Fannin

City/St:

Bonham, TX

0.303

1678823392

1677522318

0

Status:

New Listing

Price:

$159,360

Perfect home for a family or excellent rental property. This home is move in...

residentialproperty singlefamily businessopportunity

Residential PropertySingle FamilyBusiness Opportunity

203 S Caney St Dodd City, TX 75438 Fannin TX Fannin Dodd City Texas residential propertysingle family

289000

Acres:

0.41 ±

County:

Fannin

City/St:

Dodd City, TX

0.413

1678823289

1678819001

0

Status:

New Listing

Price:

$289,000

Absolutely immaculate maintained designer decorated 3 bed 2 bath with open concept living and...

residentialproperty singlefamily

Residential PropertySingle Family

305 @ The Grove Anderson TX Anderson Honey Grove Texas residential propertysingle familybusiness opportunity

225000

Acres:

0.4 ±

County:

Anderson

City/St:

Honey Grove, TX

0.4

1678823484

1675285818

0

Status:

New Listing

Price:

$225,000

Looking for a new business venture, check-out this cute Craftsman inspired 1912 brick house...

residentialproperty singlefamily businessopportunity

Residential PropertySingle FamilyBusiness Opportunity

3331 CR 2130 Telephone, TX 75488 Fannin TX Fannin Telephone Texas residential propertyundeveloped landlot

100000

Acres:

3.08 ±

County:

Fannin

City/St:

Telephone, TX

3.079

1678823353

1678131660

0

Status:

New Listing

Price:

$100,000

Peaceful and quite this 3.079 acre property is divided by Elwood creek and...

residentialproperty undevelopedland lot

Residential PropertyUndeveloped LandLot

3735 State Highway 69 Greenville, TX Hunt TX Hunt Greenville Texas farmsranchesrecreational landresidential propertycommercialhorse propertysingle familylotbusiness opportunity

465000

Acres:

5.64 ±

County:

Hunt

City/St:

Greenville, TX

5.64

1678392862

1674677247

0

Status:

Available

Price:

$465,000

PRICE REDUCTION!! MOTIVATED SELLERS!! This property contains 5.640 +- acres and is located...

farms ranches recreationalland residentialproperty commercial horseproperty singlefamily lot businessopportunity

FarmsRanchesRecreational LandResidential PropertyCommercialHorse PropertySingle FamilyLotBusiness Opportunity

Acres:

2 ±

County:

Fannin

City/St:

Bonham, TX

2

1677186717

1677181012

0

Status:

New Listing

Price:

$399,000

Beautiful well-maintained home on 2 acres, located in the Sand Creek Subdivision just outside...

residentialproperty

Residential Property

700 W. Main Street - Honey Grove Anderson TX Anderson Honey Grove Texas ranchesresidential property

1650000

Acres:

90 ±

County:

Anderson

City/St:

Honey Grove, TX

90

1675285101

1675284269

0

Status:

New Listing

Price:

$1,650,000

This is the property you've been waiting for, beautiful location between highway 82 and...

ranches residentialproperty

RanchesResidential Property

Acres:

0.99 ±

County:

Fannin

City/St:

Honey Grove, TX

0.986

1674495865

1643661089

0

Status:

Available

Price:

$79,500

Approximately one acre lot with 2 large liquid fertilizer tanks and the intersection of 5th...

Acres:

0.8 ±

County:

Fannin

City/St:

Honey Grove, TX

0.8

1670953642

1599792732

0

Status:

Available

Price:

$375,000

Clean, modern commercial building situated on 0.8 acres in fast growing Honey Grove...

8274 County Road 2610 Ivanhoe, TX Fannin TX Fannin Ivanhoe Texas residential propertysingle family

340000

Acres:

1.26 ±

County:

Fannin

City/St:

Ivanhoe, TX

1.255

1676653244

1662147479

0

Status:

Available

Price:

$340,000

Come and enjoy Peaceful Country Living in this well-maintained home on 1.255 acres...

residentialproperty singlefamily

Residential PropertySingle Family

Acres:

50 ±

County:

Fannin

City/St:

Bonham, TX

50

1671555977

1670277771

0

Status:

New Listing

Price:

$875,000

Great location - situated on Rec Road 3 just a few miles north of...

undevelopedland

Undeveloped Land

TBD Albert Broadfoot Bonham, TX Fannin TX Fannin Bonham Texas farmsranchesrecreational landresidential propertyundeveloped landtimberlandcommercialhorse propertysingle familybusiness opportunity

250000

Acres:

10 ±

County:

Fannin

City/St:

Bonham, TX

10

1670953642

1668788730

0

Status:

Available

Price:

$250,000

This 10-acre property is located just West of the Bonham Jones Field Airport. The...

farms ranches recreationalland residentialproperty undevelopedland timberland commercial horseproperty singlefamily businessopportunity

FarmsRanchesRecreational LandResidential PropertyUndeveloped LandTimberlandCommercialHorse PropertySingle FamilyBusiness Opportunity

TBD County Road 2855 Honey Grove, TX Fannin TX Fannin Honey Grove Texas farmshunting landranchesresidential propertyundeveloped landhorse property

671500

Acres:

39.5 ±

County:

Fannin

City/St:

Honey Grove, TX

39.5

1670953642

1652299514

0

Status:

Available

Price:

$671,500

If you are looking for a quiet place, this is it. The property consists...

farms huntingland ranches residentialproperty undevelopedland horseproperty

FarmsHunting LandRanchesResidential PropertyUndeveloped LandHorse Property

Acres:

60.5 ±

County:

Lamar

City/St:

Roxton, TX

60.5

1678131723

1660508436

0

Status:

Available

Price:

$635,000

Just 15 minutes west of Paris, this property would make a gorgeous country homesite...

farms huntingland ranches recreationalland

FarmsHunting LandRanchesRecreational Land

TBD CR 4865 Leonard, TX Fannin TX Fannin Leonard Texas residential propertyundeveloped landlot

280000

Acres:

11 ±

County:

Fannin

City/St:

Leonard, TX

11

1677526503

1671038585

0

Status:

Available

Price:

$280,000

This 11 acre property is the perfect place to build your Home Sweet Home...

residentialproperty undevelopedland lot

Residential PropertyUndeveloped LandLot

TBD James Fannin Road Honey Grove, TX Fannin TX Fannin Honey Grove Texas recreational landresidential propertyundeveloped landsingle familylot

38000

Acres:

0.75 ±

County:

Fannin

City/St:

Honey Grove, TX

0.745

1673978104

1673975228

0

Status:

Available

Price:

$38,000

The property contains 6 lots totaling 0.7449 acres at Lake Crockett Estates Addition...

recreationalland residentialproperty undevelopedland singlefamily lot

Recreational LandResidential PropertyUndeveloped LandSingle FamilyLot

Acres:

16.57 ±

County:

Fannin

City/St:

Honey Grove, TX

16.571

1670953642

1664920303

0

Status:

Available

Price:

$313,192

Right size - right location. This 16 acre tract has Hwy 56 frontage and...

undevelopedland

Undeveloped Land